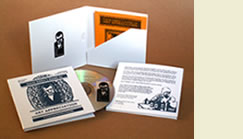 LIMITED EDITION DVD WITH SLEEVE AND BOOKLET *
18$ CAN
plus 2$ (regular) 12$ (express) shipping to Canada, 3$ to U.S. and 3 EUROS International
* Numbered limited edition. Pictured above. 120 numbered copies printed with silkscreened sleeve and information booklet. Designed and signed by Don Goodes.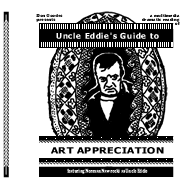 DVD DISC ONLY **
5$ CAN
plus 2$ CAN & 3 $US shipping regular mail
* DVD content is exactly the same as the Limited Edition, but no sleeve or booklet.


For ordering instructions please me

DVD Contents

Full dramatic reading of Uncle Eddie's Guide to Art Appreciation.
Photos from preproduction and the performance
Oral history interviews with friends of Eddy Moroz used in writing the monologue.

Running Time
46 min.
Format
DVD (1 disc)
Release Date
November 2005
Starring
Norman Nawrocki
Music
Divian Gasparian, Julian Kytasty, Zeellia, Norman Nawrock
Writer/Director
Donald Goodes
Camera
Alain Julfayan, John Childs
Editor
Donald Goodes
Sleeve Text
Seriously, what could anyone possibly learn about ART from a redneck Saskatchewan farmer? Well, don't be surprised when Uncle Eddie turns the tables and takes up the defence of art.

Sit down with Uncle Eddie (Norman Nawrocki) in his kitchen when he's drunk and sober, healthy and dying. All is revealed to us in stories of friends and family, cooking and gardening.

Nawrocki's performance is riveting and moving. It's like visiting a relative who has nothing in common with us. Sometimes it's amusing, sometimes it's scary, and sometimes it leads us to unexpected insights about our world.

Uncle Eddie is art, the artist and art's worse enemy.

This intense monologue with multimedia projections was written by Montreal art critic and artist, Don Goodes. It pays Homage to his Ukrainian and Romanian prairie peasant roots, while exploring how this ancestry has survived and influenced his cosmopolitain, urban life.